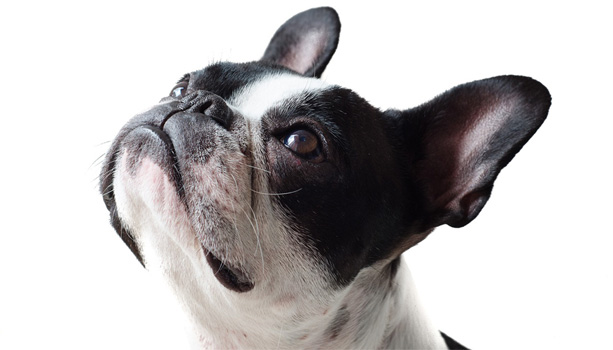 At Happy Hearts Pet Care LLC we contract with wonderful pet sitters who are reliable, pet loving people that have been providing services with our company for years and know how to uphold our high standards of service to our valued clients. Our sitters have taken pet CPR & first aid training, have passed a criminal background check with the Michigan State Police and are covered with bonding and liability insurance.
You will have the opportunity to meet any contracted team member that would be caring for your pets and home so you can feel comfortable and confident with the person providing care. You can also have peace of mind knowing that there will ALWAYS be someone from our service available to care for your pets no matter what circumstance might arise.
See our Pet Sitting Services page to see how we can help you and your pets.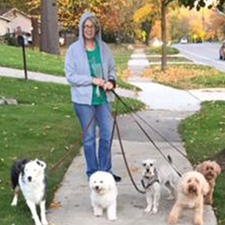 Patricia, Passion for Pets
I have had the pleasure of working with Happy Hearts Pet Care since 2002! The high standards of care we provide is the same level of care that I give my own pets that I love so very much. My husband and I have been area residents for over 46yrs and support several animal shelters and rescue groups. Our family pets are an Australian Shepard, Annie, a mini Schnauzer, Gracie Mae and Sammy the Cockatiel. All of whom we adopted from rescues.
When I tell people I am a pet sitter they often ask me how I deal with extreme weather conditions and I say, by dressing for success the pet sitter way! A variety of quality, moisture repellent and warm, warmer, warmest coats and boots. My motto is – the mail must go through and the dogs must go poo!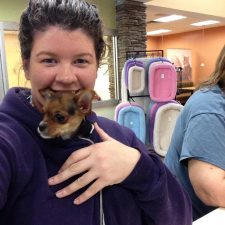 Kim
Kim has been a Ann Arbor area resident and animal lover her entire life. She joined the Happy Hearts Pet Care team in June 2018. She has over 12yrs of experience working with all types animals while working at a local horse farm, a pet hotel and for the past 5 yrs she has been a animal care technician at the Humane Society of Huron Valley.
Kim has proven to be a valued team member with her knowledge of pet health and behavior and her true compassion for all of our furry and feathered friends.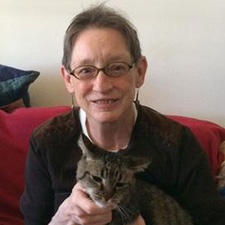 Pat, Friendly Paws Pet Care
I have had the pleasure of working as an independent contractor with Happy Hearts Pet Care since 2003. I have cared for pets just about all of my life, from childhood family pets through the present. Over the years I've worked with several rescue and shelter organizations around Boston and here in Ann Arbor. I am presently volunteering at the Humane Society of Huron Valley.
I work pretty much just with cats and other small animals.
I live in Ann Arbor with two cats, Bob (pictured with me here) and Sparkler who likes to hide under the bed, and I have two others being fostered. I love them all dearly. I will give your pets the same kind of reliable, loving care that I give my own and for which Happy Hearts has been known for over 20 years.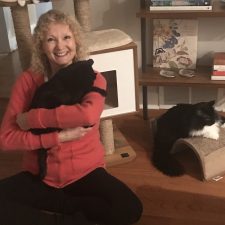 Laurie
I moved to Ann Arbor February 2018 after living in Florida for the last 25yrs – a reverse snowbird! Spent a few months settling in, playing in the garden and now I am so thrilled to be apart of the Happy Hearts Pet Care team!!
Loving and caring for pats has always been a part of my life – growing up we shared our home with 3 dogs, 6 or more cats, lots of guinea pigs, gerbils and a sweet cockatiel. It really made me appreciate the unconditional love our animal friends offer us and how they make our life and our world so much brighter.
My husband I now share our home with 4 formerly feral felines – they are living the good life now having gracefully transitioned from street cats to pampered pets. Only 3 0f our 4 showed up for my photo – Lucky, Billy and Singy…. Missing is our love bug boy – Smiley!
I am looking forward to getting to sharing the love and helping Happy Hearts care for your pets.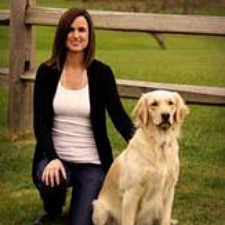 Michelle, Wags at Home Pet Sitting, LLC
Hello, My name is Michelle Caryl, I live in the Saline area with my family along with our playful golden retriever Darby and our curious kitty Sophie.
My love for animals began as a child, growing up we always had pets ranging from dogs to hamsters. As an adult I have been a pet and home sitting hobbyist for my family members, friends and neighbors and that is when I realized I wanted to turn my hobby into a career.
Pet care is very important top me so I continue to educate myself with seminars, attending local events and by joining the Happy Hearts Pet Care team.
I look forward to the opportunity to earn your trust and to be able to give your pets the same love and companionship as you do.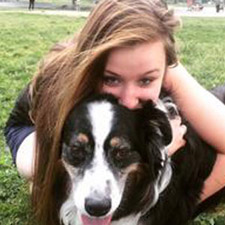 Becky
Growing up, I was constantly surrounded by pets, loving them from the earliest age I can remember. My family had barn cats, horses, cows, and always at least one family dog.
Once I was on my own and off to college, I quickly realized the biggest void in my life— not having a pet! I got my dog Wolfgang (an Australian Shepherd) during my second year of school while I was living in Kalamazoo.
After getting an Associate's degree in English, Wolf and I moved to Fredericksburg, Virginia, where I got my Bachelor's degree in English literature from University of Mary Washington. Post graduation, I was offered an internship with the National Parks Service. This helped remind me how much I loved working outside. In my spare time, I began to do some dog-sitting, and that just kept expanding as time went on.
After spending five years in Virginia, it was time to move a little closer to home. My boyfriend Andy and I and our dogs (Max, basset/lab) just moved up to Ann Arbor in the spring of 2017! We are loving the change of pace, and I am so grateful to have found a place at Happy Hearts that allows me to love on and care for more pets every day! I honestly can't imagine a better job than this one.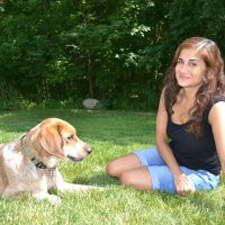 Beth
Hello, my name is Beth Quillen. I have lived in Ann Arbor since 2001. I have had experience with dogs my whole life, from the pets I had growing up, to the dog I now have with my family. I especially love going on walks but I am definitely a more enthusiastic walker than my own dog. My 3 year old Coonhound is named Taco but I think we should have named him Couch Potato. It works out great that I get to take other dogs for walks. It brightens my day to see their furry faces.
Providing great service to my clients is very important to me. I always strive to give your pets that same kind of care and attention I would want for my own.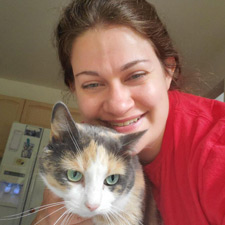 Kimi
Hello! I've been surrounded by cats and dogs my whole life, often at the same time. My family kept old-English sheepdogs while I was growing up and then branched out to keep several mixes. Currently, I live with my grandparents between Ann Arbor and Saline. Up until three years ago, I lived in Illinois. I worked as a daily dog Walker and pet sitter in Chicago for three years and adopted a calico kitten I named Holly. Holly is now five and rules the household!
Out of all the jobs I've had, pet sitting is the one that's truly made me happy. I love connecting with the animals I look after and, by extension, their owners. I look after the pets like they were my own and take great pride in the quality of my service.
I attended Southern Illinois University Edwardsville and graduated in 2011 with a major in English and minors in Asian Studies and Creative Writing. Pet sitting inspired me to write the April Gladdis Dog Walking Mystery Series under the pen name Alexa Windsor! The first entries in the series are completed and I'm working on the third. Sometimes the dogs and cats I watch make it into the book as cameos!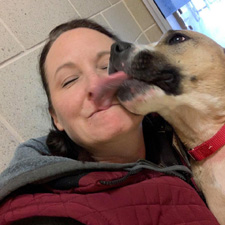 Jennifer
I have been an Ann Arbor area resident for over 10 years. I live in Pittsfield Township with my husband, Pit bull Thor and senior kitty Buddy. Animal care and welfare is my biggest passion. I joined the Happy Hearts team in October 2019, I felt it was a great way for me to do what I love and help enrich the lives of animals.
Over the last 8 years I have immersed myself in area animal welfare causes. I have volunteered with a local Pit bull rescue, I was on the board of directors of an area dog rescue/rehabilitation organization and most recently I spent over 2 years as a Level III dog walker and foster volunteer at HSHV. Throughout my experience with dog rescue/shelter organizations I have developed some very useful dog behavior/training skills. I enjoy not only just taking a dog for a walk, but also helping to set them up for long term success.
I look forward to caring for your pets as if they were my own.